Special Events
St. Patrick's Day Celebration
Tuesday March 17, 2009 - 6-8 pm
The James S. Copley Library
Start your St. Paddy's Day Celebration early by attending an evening of musical artistry, camaraderie & culinary delights, and help support Westwind Brass' educational outreach programs to the schools and community of San Diego.
Irish hors d' oeuvres ¤ desserts ¤ beer & wine
We would like to thank the following organizations that have donated items to be included in our Opportunity Drawing.
Tickets to the following organizations
Support Westwind Brass

All contributions to Westwind Brass are tax-deductible. Support Westwind Brass as an individual member of our
FANFARE
group, a business
PARTNER
or the Westwind Brass
Endowment program
.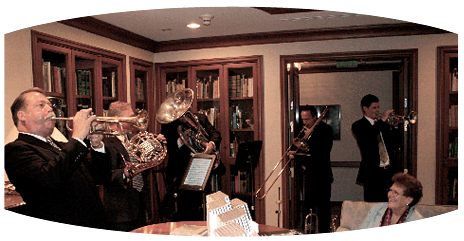 Special Events Archives
Westwind Brass faculty in residence:
John Wilds - trumpet
Barry Toombs - horn
Eric Starr - trombone
Brent Dutton - tuba
Karl Soukup - trumpet
Elizabeth Meeker - trumpet

Private Lessons Available:
Please call: 619-665-9125 for more information.