Westwind Brass exists to broaden and enrich the musical legacy of local, national and international audiences through performance and educational services featuring brass instruments and music.
John Wilds-trumpet, Andrew Elstob-trumpet, Barry Toombs-horn, Dave Pollock-trombone, Brent Dutton-tuba
---
---
10-Year Fanfare Reunion

We are pleased to celebrate the 10-Year Fanfare Reunion at the James S. Copley Library on Wednesday, February 20, 2008 6-8 pm.
This event marks our 10 years of support from our Fanfare membership. Please join us for an evening of musical previews of the upcoming program "And the World Resounds" program and highlights from our educational outreach program "Around the World thru Brass" in the intimate setting of the James S. Copley Library.
Our Fanfare group brings together donors and music lovers from all over San Diego, who play a vital role in sustaining Westwind Brass' tradition of musical excellence, as well as our nationally recognized education programs and outreach efforts.
Join us for friendly camaraderie & culinary delights, and help support Westwind Brass' educational outreach programs to the schools and community of San Diego.
Advanced reservations: $20 per person, or $35 for two. Space is limited!
James S. Copley Library 1134 Kline Street, La Jolla (corner of Kline at Ivanhoe, off Torrey Pines; parking around & in private parking lots behind library)
For more information: (619) 665-9125
---
The San Diego March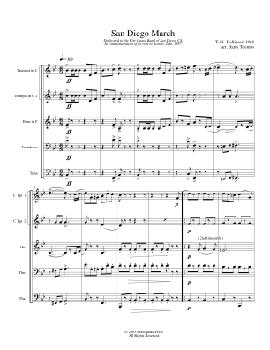 The San Diego March – Thomas H. Rollinson (b Ware, MA 4 Jan 1844; d Waltham, MA 23 June 1928) arr. by Barry Toombs for the Westwind Brass.
Thomas H. Rollinson, well-known cornetist and composer from Boston, wrote the San Diego March "Dedicated to the San Diego City Guard Band," in commemoration of its visit to Boston, Sept. 1887.
Thanks to the internet we were able to find more information about Thomas H. Rollinson from the website: "The Cornet Compendium-The History and Development of the Nineteenth-Century Cornet ".
---
Brass History – Dennis Brain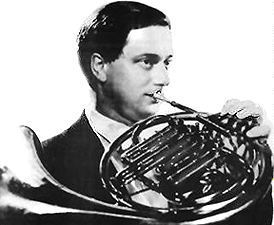 Brass History – Dennis Brain (born May 17, 1921. died September 1, 1957) was a British virtuoso horn player and was largely responsible for popularizing the horn as a solo classical instrument with the post-war British public. With Herbert von Karajan and the Philharmonia Orchestra, he made what many still consider the definitive recordings of Wolfgang Amadeus Mozart's horn concerti.
Brain is generally recognized as the greatest exponent of the horn in living memory.
One of the premier french horn players of the 20th century, Dennis Brain was born into a family of performers. His father, uncle and grandfather had all played the french horn professionally, so it was perhaps inevitable that the young Dennis would do the same.
His early musical training was on the piano, followed a few years later by the organ. Though quite an accomplished keyboardist, his prowess on those instruments would be overshadowed when he started learning the french horn during his teenage years. He went on to study at St. Paul's School for the Royal Academy of Music with his father during the mid 1930's. His debut was made on October 6th, 1938 at the age of 17 where he and his father performed Bach's Brandenburg Concerto #1 with the Busch Chamber Players in Queen's Hall. The performance received much praise, and was the beginning of a distinguished career in music for the young Dennis.
During Britain's involvement in World War II, Dennis joined the Royal Air Force Central Band as principal horn. During this time he played concertos all over Britain, and gained much popularity and notoriety. After the war, he received many invitations to play in orchestras, many from America. He ended up taking the position of principal horn in the Royal Philharmonic and later was the principal horn player in the elite Philharmonia Orchestra, both in Britain.
Around this time Dennis began his recording career. Many now considered classics, these recordings cover everything from concertos by Mozart, Strauss and Hindemith to numerous chamber works and recital pieces. He also inspired composers of the day, who wrote much new literature for the horn due to Brain's impeccable technique. Paul Hindemith, Benjamin Britten, Malcolm Arnold, York Bowen, Elisabeth Lutyens and many other even more obscure composers wrote pieces for Brain.
On the evening of September 1st, 1957, Dennis Brain was killed in a car accident while driving home to London after a performance at the Edinburgh Festival with his wind quintet. Of that night, Benjamin Britten had this to say:
" …it has robbed us of an artist with the unique combination of superb technical command of his instrument, great musicianship, a lively and intelligent interest in music of all sorts, and a fine performing temperament, coupled with charming personality."
Links:
Discography of Dennis Brain
Dennis Brain Wikipedia
Dennis Brain Ivan Wong
Tribute to Dennis Brain (YouTube)
Beethoven Horn Sonata Op 7 (YouTube)
---
Westwind Brass – Educational Outreach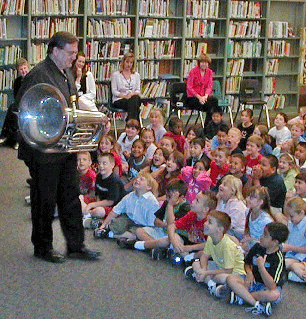 Westwind Brass recently finished up a mini-residency with the Fallbrook Music Society and the Fallbrook Union Elementary School District. During the month of November we provided 27 arts-standards based musical programs to over 2,400 students during our 7-day visit to the Fallbrook, CA community. We look forward to repeating and expanding this program for the middle and high school music students during the 2008-09 school year.
Here in San Diego we are working on an exciting partnership with the Visual and Performing Arts department of San Diego Unified School District and the Balboa Park Program OCILE (Off Campus Integrated Learning Experience). This project will provide a Grade Level Arts Experience (GLAE) for the 5th grade students of San Diego Unified School District. Students will experience a concert performance of the Westwind Brass program "Around the World thru Brass," then a hands-on session exploring the various brass instruments, mentored and guided by the musicians of Westwind Brass.
Are you currently playing a brass instrument and want to participate in a fun, weeklong multi-generational workshop? Sign up for our Summer Brass Workshop at the School of Music and Dance at San Diego State University, June 23- 28, 2008.
---
Westwind Brass Endowment Fund

The Fanfare Spring Fling of 2007 allowed our board members to share with the community our long-term goals of the organization to broaden and enrich the musical legacy of local, national and international audiences through performance and educational services featuring brass instruments and music. We would like to thank "Tuba Jim" for stepping up and helping Westwind Brass open the "Westwind Brass Endowment Fund" with the San Diego Foundation. We think this is the first Endowment Fund in California dedicated to brass chamber music.
Stop by our event this month to meet "Tuba Jim" and to hear new and exciting events planned for the upcoming year.
Westwind Brass has been a member of Endow San Diego as part of the NonProfit Partnership Program with The San Diego Foundation.
Endow San Diego is a regional, multi-year initiative designed to build permanent endowments for citizens and organizations committed to improving the quality of life in San Diego's communities. This initiative unites organizations and individuals with the common goal of increasing endowments in the San Diego region.
Did You Know…
That making a gift of stock to Westwind Brass that is valued at $10,000 qualifies you for an income tax deduction of $10,000! and…….If you purchased the stock more than 1 year ago for $5,000, you pay no capital gains tax on the $5,000 appreciation!
That giving us a paid-up, no longer needed insurance policy will merit an income tax charitable deduction!
That you can make a gift to our organization, qualify for a charitable tax deduction, bypass capital gains taxes and receive income in return!
That you can give your home to Westwind Brass, receive a tax deduction and continue to live in your home!
That gifts to Westwind Brass made in your will or living trust are estate tax free!
That transferring the assets in your qualified retirement plan to family members other than your spouse may be subject to taxes as high as 85%! but…….making Westwind Brass the successor beneficiary of you and your spouse insures that any remaining assets will have full value for our program.
Call us at 619-665-9125 or use our contact form to learn more about various ways of making gifts.
---
The City of San Diego Commission for Arts and Culture provides major support to Westwind Brass.
Westwind Brass P. O. Box 601502 San Diego, CA 92160-1502; phone 619-665-9125
---
We are pleased to recognize our community partners