Westwind Brass exists to broaden and enrich the musical legacy of local, national and international audiences through performance and educational services featuring brass instruments and music.
John Wilds-trumpet, Andrew Elstob-trumpet, Barry Toombs-horn, Dave Pollock-trombone, Brent Dutton-tuba
---
---
And the World Resounds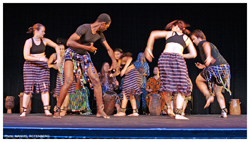 Our final concert for the 2007-08 season will include selections from around the world, highlighting regions other than Europe and North America. Music Cultures to be visited include Africa, Asia, Persia, Mediterranean, South America and others.
Our special guest artists for this program is Ho-Asogli. Directed by John Flood, Ho-Asogli is an exciting and moving San Diego-based ensemble that performs traditional drumming and dance of Ghana, West Africa. Authentic in costumes and instruments, the Ho-Asogli experience is a combination of music, movement and voice, depicting significant musical practices of the various ethnic groups of Ghana including the Ewe, Ga, Asante and Dagomba people. Ho-Asogli has one of the best – if not THE best – collections of traditional Ghanaian drums in town! They were all acquired from carvers in Ghana. Our performances include music festivals, multi-cultural events, education and outreach programs, libraries, and diversity programs. We drum, we dance, we sing – and sometimes all at once! On this concert you will hear the Westwind Brass join Ho-Asogli for a rousing concert piece. Don't miss this exciting collaboration.
Friday May 2, 2008, 7pm
St. Paul's Cathedral
2728 Sixth Avenue
San Diego, CA 92103-6397
Sunday May 4, 2008, 4pm
La Mesa First United Methodist Church
4690 Palm Avenue
La Mesa, California, 91941
Monday May 5, 2008, 7pm
The Neurosciences Institute
10640 John Jay Hopkins Drive
San Diego, CA 92121
For more information: (619) 665-9125
---
Une Feuille Errante – Free Music Download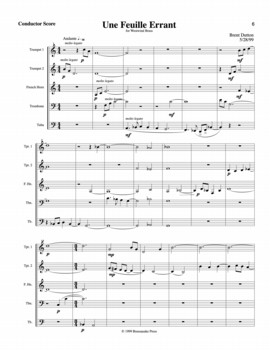 Une Feuille Errante – Brent Dutton (b Saskatoon, CN 20 Mar 1950)
Click here to download Une Feuille Errante -mp3 file.
The idea came to me to compose a Suite that highlighted various parts of the Americas. The resulting Suite of the Americas features a movement for Mexico, Canada, South America (Brazil) and the U.S.A.
The Canadian work is called Une Feuille Errante It combines two very different melodies that are well known, or at least were well known (I have been away from my native Canada for many years now) in very different parts of the country.
The tune Un Canadien Errant is from French Canada. It is a hauntingly simple melody with a very sad story. It tells of a French Canadian who was expelled from Canada during the war of 1812. He was never allowed to come home but destined to wander abroad for the rest of his days. He sings of his longing and his sadness as he recalls his native land.
The other melody is the English war hymn The Maple Leaf Forever. It tells of the English victory over the French at the Battle of the Plains of Abraham in 1759 when the English commander Wolfe defeated the French, led by Montcalm to establish sovereignty over what was to become Canada.
History has shown us what an uneasy truce that has been over the centuries. These two tunes are seldom heard in the same province, let alone the same concert. It appealed to my composerly sense of contrariness and to my expatriate sense of longing to put them together in the same composition. Hence, Une Feuille Errante – A Wondering Leaf.
---
Brass History – The Philip Jones Brass Ensemble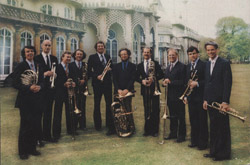 Brass History – Although the Philip Jones Brass Ensemble actually formed in 1951, its first full-length concert did not take place until the 1962 Aldeburgh Festival. It was the first such brass ensemble to perform in the world's major concert halls and to record with the pre-eminent labels. Philip Jones (born 1928), the ensemble's founder, was a virtuoso trumpet player whose first important position was with the Covent Garden Orchestra, where he played from 1948 to 1951. About the time he resigned from there, Jones founded the ensemble bearing his name, which consisted of a quintet of players, featuring two trumpets, a horn, trombone, and tuba. Later, it expanded to ten players for selected bigger concert dates in Europe and the U.S. Jones originally conceived the idea to form the group after hearing the Amsterdam Koper Quartet, an obscure ensemble of brass players, in an Edinburgh concert. The players most closely associated with the Philip Jones Brass Ensemble during its 35-year existence were Elgar Howarth (trumpet), who was also a well-known composer and conductor; Ifor James (horn); John Iveson (trombone); John Fletcher (tuba); and of course, Jones. Other players over the years, generally those added when ten pieces were used, included the famed horn player Alan Civil, James Watson, John Wilbraham, Rod Franks, John Miller, Denis Wick, Dave Stewart, Chris Mowat, and Frank Lloyd. After founding the group in 1951, Jones freelanced over the next few years while his ensemble made infrequent appearances, advancing little toward establishing a reputation beyond the British Isles. Jones joined the Royal Philharmonic Orchestra for four seasons, beginning in 1956, then the Philharmonia in 1960 for an identical tenure. From 1962, the PJBE slowly built a reputation that evolved as their repertory grew, especially from pieces by Giovanni Gabrieli and Johann Pezel. Jones had shorter stints with other British orchestras in the 1960s: the London Philharmonic in 1964-1965, the New Philharmonic Orchestra in 1965-1967, and the BBC Symphony Orchestra from 1968 to 1972. By the time Jones had left the BBC, his ensemble had made its first recordings and was in demand not only in the U.K., but throughout Europe and the U.S. They began to draw important commissions too, including one from American composer Raymond Premru, who composed his Divertimento for them in 1976. But the PJBE also began playing other modern works, including ones by Richard Rodney Bennett, Hans Werner Henze, and Toru Takemitsu. The ensemble also began working with choral groups, in particular with the London Bach Choir. Much of the repertory of the PJBE was transcriptions of well-known classical works. Elgar Howarth made one of Mussorgsky's Pictures at an Exhibition in 1979, which the group then premiered and recorded.
Jones, allotted some of his time to teaching when he left the BBC Symphony Orchestra in 1972, retired from the ensemble in 1986, thereafter focusing his professional activities on teaching. Yet he might have continued the PJBE had a freak accident not hastened his decision to retire: he drove his automobile over his trumpet case. The group then disbanded, but re-formed under the name the London Brass. Without doubt, the PJBE was one of the most influential instrumental ensembles in terms of laying the groundwork for the establishment of similar highly successful groups, such as the Canadian Brass and the Empire Brass.
PJBE made its first recording in 1965 for EMI, The Glory of Venice, in collaboration with Denis Stevens and the Ambrosian Singers. It was a collection of brass and choral settings by Giovanni Gabrieli and Andrea Gabrieli.
* List of recordings
* Sound clips
* Just Brass (series)
In 1986, Philip Jones announced his retirement. Last recording was PJBE Finale.
Last public performance by Philip Jones Brass Ensemble, with Elgar Howart conducting, was Sunday 8 June 1986, at 7:15 pm in Queen Elizabeth Hall, London.
A detailed history of the PJBE can be found in Donna McDonald's The Odyssey of the Philip Jones Brass Ensemble (pub. Bulle Switzerland, Editions BIM; 1986). It includes lists of members of the ensemble.
---
Instant Encore – Web Resource for Classical Music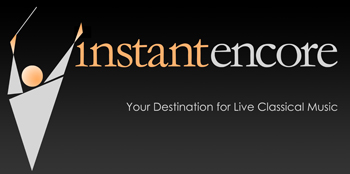 InstantEncore is your web resource for live classical music. Search through over 15000 classical concert listings. Find out what's happening in your town tonight. Discover where your favorite artist is performing this week, month or year. Browse through our unique blend of live and studio music where you will find outstanding recent performances from our rapidly growing list of partners. Check out the podcasts, news and blogs to stay informed and to increase your knowledge and appreciation.
Click here for more…
---
The City of San Diego Commission for Arts and Culture provides major support to Westwind Brass.
Westwind Brass P. O. Box 601502 San Diego, CA 92160-1502; phone 619-665-9125
---
We are pleased to recognize our community partners