Westwind Brass exists to broaden and enrich the musical legacy of local, national and international audiences through performance and educational services featuring brass instruments and music.
John Wilds-trumpet, Andrew Elstob-trumpet, Barry Toombs-horn, Dave Pollock-trombone, Brent Dutton-tuba
---
---
Brass Seminar – La Paz Mexico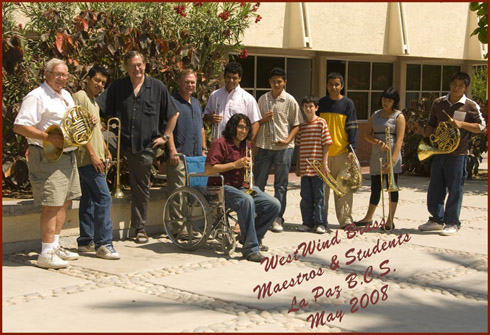 Westwind Brass members Brent Dutton, and Barry Toombs recently returned from a 3-day seminar in La Paz, Baja California Sur Mexico. This international project was the first step in creating a partnership with SDSU's Westwind Brass, US Consulate Tijuana and La Paz School of Music to provide brass students with ongoing workshops and educational master classes.
Over the course of the 3 days, brass students received 20 hours of hands on coaching/instruction covering basic musicianship, teamwork skills, music history, breathing and practice routines and exploration of ensemble deportment. Westwind Brass was very fortunate to have philanthropic support from the San Diego community to provide the students of La Paz with 3 brass instruments, 20 musical scores, valve oil, mouthpieces and over 30 recordings of Westwind Brass compact discs.
Thomas A. Ireton of La Paz Brass Deptartment wrote to President Weber praising Westwind's participation: "Last week's Seminar and Workshop…was a stunning success and a wonderful experience for us all. Not only the brass students, but the entire music school and community are still talking about the event. The real treasure that was conveyed by Dutton and Toombs to the students has been self-esteem, confidence, and the knowledge that they can become more than they previously ever thought possible."
Stay tuned for our next trip back to La Paz.
---
Liberty Bell March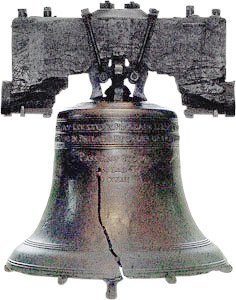 Liberty Bell March – J. P. Sousa (1867-1917)
The Liberty Bell is an American military march composed by famous bandmaster John Philip Sousa in 1893, and is considered one of his finest works. Many people associate it with the British comedy television show, Monty Python's Flying Circus, which played an excerpt over its opening titles.
"The Liberty Bell" came very close to being called "The Devil's Deputy." But due to financial arguments, Sousa abandoned this title and its soon-to-be dedication.
Sousa and his band manager, George Hinton, were touring in Chicago, observing the spectacle America, when a large backdrop depicting the Liberty Bell was lowered. Hinton suggested the title "The Liberty Bell" for Sousa's recently completed march. Coincidentally, Sousa received a letter from his wife, saying that his son had marched in a parade in honor of the Liberty Bell, which was on tour in Philadelphia. These two events helped Sousa make up his mind. The march was named "The Liberty Bell" and sold to the John Church Company for publication. It brought Sousa a very large sum of money.
---
2008-09 Concert Series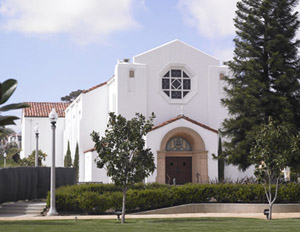 Westwind Brass quintet commences its ninth year as San Diego's only Brass Chamber Music Recital Series with four exciting new concert themes.
Big Brass
Join Westwind Brass as it expands to a ten-piece ensemble with a wonderful tribute to London's Philip Jones Brass Ensemble (PJE). WWB and friends will play the music that made the PJE world famous with works by Gervaise, Susato, Abreu, Strauss, Lennon, McCartney and more.
Sunday, September 28, 2008- La Mesa First United Methodist – 4:00 pm Monday, September 29, 2008 -The Neurosciences Institute – 7:30 pm
Tuesday, September 30, 2008 -The North Chapel – 7:30 pm
Holiday Program
Enjoy holiday music from many countries and every era, including traditional Christmas carols, Hanukah music, and selections from a Klezmer's Nutcracker Suite, Händel's Messiah, as well as a few surprises.
Sunday, November 30, 2008- La Mesa First United Methodist – 4:00 pm
Tuesday, December 2, 2008 – The North Chapel – 7:30 pm
Monday, December 8, 2008- The Neurosciences Institute– 7:30 pm
The Golden Age with Brass
Take pleasure in music written by great composers throughout the ages when each was in his "golden age" of creativity. Composers as diverse as Beethoven and Dave Brubeck will be explored.
Sunday, February 15, 2009 – La Mesa First United Methodist – 4:00 pm
Monday, February 16, 2009 – The Neurosciences Institute– 7:30 pm
Tuesday, February 24, 2009 – The North Chapel– 7:30 pm
History of the Brass Quintet III
Experience the wonderful history of brass literature, featuring WWB's top 10 compositions for the brass quintet. You will hear works composed or arranged by Bozza, Arnold, Broughton, Dutton, Koetsier, and Ewald.
Tuesday, April 28, 2009 – The North Chapel – 7:30 pm
Sunday, May 3, 2009 – La Mesa First United Methodist – 4:00 pm
Monday, May 4, 2009 – The Neurosciences Institute– 7:30 pm
Season tickets are $75 general admission,
$45 members/students/seniors/military.
Individual concert tickets are $25 general admission,
$15 members/students/seniors/military.
Call the Box Office at (619) 665-9125.
Locations:
The North Chapel at Liberty Station
2881 Roosevelt Drive, San Diego, CA 92106
The Neurosciences Institute
10640 John Jay Hopkins Drive San Diego, CA 92121
La Mesa First United Methodist Church
4690 Palm Avenue La Mesa, CA, 91941
---
In Harmony with the Garden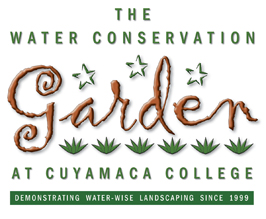 Water and Music Education: Two Scarcities in San Diego County Westwind Brass and Water Conservation Garden partner for a special fundraising event.
Enjoy music, food, gardens, and fun on November 1, 2008, 4-6pm, at "In Harmony With The Garden", a fundraising event held jointly by Westwind Brass and The Water Conservation Garden at Cuyamaca College.
Proceeds from this event will benefit The Water Conservation Garden at Cuyamaca College, whose mission is to promote water conservation in the landscape, and the Westwind Brass educational outreach programs that reach over 10,000 students annually throughout the San Diego schools.
Five acres of themed gardens showcasing the beauty and diversity of water-wise landscapes will be on display as patrons hear the majestic sounds of the Westwind Brass quintet. A roving musical experience will feature baroque masterpieces, music of the Californias, Americana, and a finale of world music in the Garden's tree-lined plaza. Hors d'oeuvres will be served along with wine and beer, and a silent auction will be held.
Items include, Southwest Airline tickets; Bonsai Tree & consultation; Padres Gift basket; wide variety of tickets to cultural performances by SD arts groups; an in-home private performance by Westwind Brass, gift cards to Toys R US, Omaha Steaks, Home Depot, Macy's, Shell Gas Card, and variety of gifts for home and garden.
Individual tickets at $30 / person • Members / seniors at $20 / person
Students at $15 / person • Opportunity Drawing tickets at $5
Children under 12 free.
---
Hornswoggle 2008


Join San Diego Horn players for our annual Hornswoggle 2008 concert featuring 20 horn players performing at the Museum of Making Music – A Division of the NAMM Foundation 5790 Armada Drive, Carlsbad, California 92008
When – Saturday, August 2, 2008 2pm
This concert is free though a $5 donation is greatly appreciated.
The purpose of San Diego Hornswoggle is to provide an opportunity for horn players of all ages and levels of ability to come together, and share their love of the horn. While the traditional activity of horn clubs is horn ensemble playing, any activity that serves the needs of the membership will be pursued.
We are happy to have Barry Toombs and Warren Gref as conductors for Hornswoggle 2008 concerts. John & Warren are both members of the San Diego Symphony and have played everywhere in Southern California.
---
Community Outreach Programs

Westwind Brass makes an ongoing effort to fulfill our mission to broaden and enrich the musical legacy of local audiences by providing outreach concert programs.
Our next free public concert is at the Ellen Scripps Browning Park for La Jolla Concerts by the Sea. Please join us on Sunday, August 10, 2008 from 2-4 pm to hear our Big Brass concert of popular favorites. This outreach performance will also offer audience members that sign up as a FANFARE member with a special gift package. Stop to hear our unique offer.
Concert to be selected from the following
An American Revolutionary War Medley
The Battle Hymn of the Republic
A Scott Joplin Suite
"Pops" a tribute to Louis Armstrong
Simple Gifts
Porgy and Bess
Carmen Suite Bizet
Blue Rondo a La Turk
Intermission
Circus Bee
Blue Bells of Scotland (Toby Oft trombone soloist)
Popurri Mexicano
Granada
The Girl from Ipenema
My Funny Valentine
Yesterday
America the Beautiful
A Tribute to the Armed Forces
---
The City of San Diego Commission for Arts and Culture provides major support to Westwind Brass.
Westwind Brass P. O. Box 601502 San Diego, CA 92160-1502; phone 619-665-9125
---
We are pleased to recognize our community partners