Westwind Brass exists to broaden and enrich the musical legacy of local, national and international audiences through performance and educational services featuring brass instruments and music.
John Wilds-trumpet, Andrew Elstob-trumpet, Barry Toombs-horn, Dave Pollock-trombone, Brent Dutton-tuba
---
---
Big Brass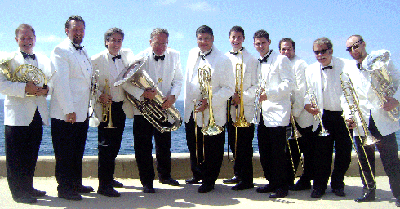 Join Westwind Brass as it expands to a ten-piece ensemble with a wonderful tribute to London's Philip Jones Brass Ensemble (PJE). WWB and friends will play the music that made the PJE world famous with works by Gervaise, Susato, Strauss, Lennon/McCartney and more.
Sunday, 9/28/08-La Mesa First United Methodist Church – 4:00 pm
Monday, 9/29/08 -The Neurosciences Institute – 7:30 pm
Tuesday, 9/30/08 -The North Chapel at Liberty Station– 7:30 pm
Season tickets are $75 general admission,
$45 members/students/seniors/military.
Individual concert tickets are $25 general admission,
$15 members/students/seniors/military.
Call the Box Office at (619) 665-9125.
Locations:
La Mesa First United Methodist Church
4690 Palm Avenue La Mesa, CA, 91941
The Neurosciences Institute
10640 John Jay Hopkins Drive San Diego, CA 92121
The North Chapel at Liberty Station
2881 Roosevelt Drive, San Diego, CA 92106
---
Joplisousiana

Joplisousiana – Brent Dutton (1950)
Joplisousiana combines the music of Scott Joplin and John Phillip Sousa at the same time to make an off balance but joyous closing to Brent Dutton's Suite of the Americas. Suite of the America's came about because of WWB needed some accesible music from the Americas that it could include on its Around the World educational program.
---
In Harmony with the Garden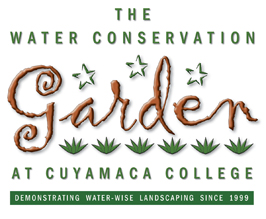 Water and Music Education: Two Scarcities in San Diego County Westwind Brass and Water Conservation Garden partner for a special fundraising event.
Enjoy music, food, gardens, and fun on November 1, 2008, 4-6pm, at "In Harmony With The Garden", a fundraising event held jointly by Westwind Brass and The Water Conservation Garden at Cuyamaca College.
Proceeds from this event will benefit The Water Conservation Garden at Cuyamaca College, whose mission is to promote water conservation in the landscape, and the Westwind Brass educational outreach programs that reach over 10,000 students annually throughout the San Diego schools.
Five acres of themed gardens showcasing the beauty and diversity of water-wise landscapes will be on display as patrons hear the majestic sounds of the Westwind Brass quintet. A roving musical experience will feature baroque masterpieces, music of the Californias, Americana, and a finale of world music in the Garden's tree-lined plaza. Hors d'oeuvres will be served along with wine and beer, and a silent auction will be held.
Items include, Southwest Airline tickets; Bonsai Tree & consultation; Padres Gift basket; wide variety of tickets to cultural performances by SD arts groups; an in-home private performance by Westwind Brass, gift cards to Toys R US, Omaha Steaks, Home Depot, Macy's, Shell Gas Card, and variety of gifts for home and garden.
Individual tickets at $30 / person • Members / seniors at $20 / person
Students at $15 / person • Opportunity Drawing tickets at $5
Children under 12 free.
---
Minding the Arts

Each fall, The Neurosciences Institute holds its annual Minding the Arts fundraising event. This event raises funds for the Institute's performing arts program, in which the acclaimed auditorium is made available at no-charge to local non-profit arts and educational organizations. The Institute incurs costs of over $350,000 per year to continue providing this community service- which many local arts groups have come to rely upon in order to continue their programming. These expenses include energy for lighting and climate control, maintenance, cleaning, security and program management.
Minding the Arts provides guests with a unique afternoon that begins with a lovely outdoor cocktail reception amidst the stunning architecture of the Institute's campus, featuring a tempting array of food and beverages from San Diego's finest purveyors. Guests are then further indulged with a private concert in the Auditorium provided by arts organizations that have benefited from the use of the auditorium throughout the year.
The 6th annual Minding the Arts event will take place on Sunday, September 14, 2008 at 3:30 p.m.
Please click here to purchase tickets for this exciting event! For more information, please contact Jessica Colby at (858) 626-2022 or email colby@nsi.edu.
---
San Diego's Performing Arts


Music and dance take the stage when "San Diego's Performing Arts at Mater Dei" comes to Chula Vista from Oct. 4 through Dec. 13.
The new series will feature five of San Diego's leading arts organizations and inaugurate the 490-seat Kassebaum Theater at Mater Dei Catholic High School, 1615 Mater Dei Drive, Chula Vista. The facility is named for the late Dr. Estelle Kassebaum, who died in 2006 and was principal of the school when it was known as Marian Catholic High School.
All of the hour-long "San Diego's Performing Arts" shows will begin at 7 p.m. and will be followed by a reception with the artists. Mainly Mozart is producing the series as part of its community outreach programming, coordinating collaborations with California Ballet, Westwind Brass, Malashock Dance and San Diego Ballet.
"Mainly Mozart is dedicated to collaboration and to serving the community and this series is an amazing opportunity for South Bay residents to experience wonderful artists and programs close to home," said Mainly Mozart executive director Nancy Laturno Bojanic, who coordinated more than 70 arts organizations in 300 Mozart-themed performances for the San Diego region's 2006 Mozart year celebration.
VIP 5-performance subscriptions to the series are $180 (which includes $100 a tax-deductible donation to Mater Dei's performing arts programs and gives subscribers VIP seating and donor listings). Five-performance subscriptions are $80 for adults and $20 for students and children. Single tickets (open seating) are $20 for adults and $5 for students and children. Tickets are available at Geppetto's at Otay Ranch Town Center (2015 Birch Rd., Chula Vista), by calling (619) 704-1140 or by visiting San Diego Performing Arts.
---
The City of San Diego Commission for Arts and Culture provides major support to Westwind Brass.
Westwind Brass P. O. Box 601502 San Diego, CA 92160-1502; phone 619-665-9125;
Email:
---
We are pleased to recognize our community partners