Westwind Brass exists to broaden and enrich the musical legacy of local, national and international audiences through performance and educational services featuring brass instruments and music.
John Wilds-trumpet, Andrew Elstob-trumpet, Barry Toombs-horn, Dave Pollock-trombone, Brent Dutton-tuba
---
---
In Harmony with the Garden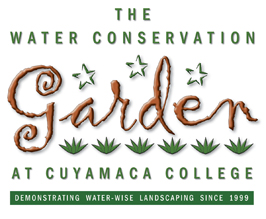 Water and Music Education: Two Scarcities in San Diego County Westwind Brass and Water Conservation Garden partner for a special fundraising event.
Enjoy music, food, gardens, and fun on November 1, 2008, 4-6pm, at "In Harmony With The Garden", a fundraising event held jointly by Westwind Brass and The Water Conservation Garden at Cuyamaca College.
Proceeds from this event will benefit The Water Conservation Garden at Cuyamaca College, whose mission is to promote water conservation in the landscape, and the Westwind Brass educational outreach programs that reach over 10,000 students annually throughout the San Diego schools.
Five acres of themed gardens showcasing the beauty and diversity of water-wise landscapes will be on display as patrons hear the majestic sounds of the Westwind Brass quintet. A roving musical experience will feature baroque masterpieces, music of the Californias, Americana, and a finale of world music in the Garden's tree-lined plaza. Hors d'oeuvres will be served along with wine and beer, and a silent auction will be held.
Items include, Southwest Airline tickets; Bonsai Tree & consultation; Padres Gift basket; wide variety of tickets to cultural performances by SD arts groups; an in-home private performance by Westwind Brass, gift cards to Toys R US, Omaha Steaks, Home Depot, Macy's, Shell Gas Card, and variety of gifts for home and garden.
Individual tickets at $30 / person • Members / seniors at $20 / person
Students at $15 / person • Opportunity Drawing tickets at $5
Children under 12 free.
---
I Love Dreaming of California


I Love Dreaming of California – arr. Barry Toombs
While developing our selections for "The Music of California's" CD it seemed appropriate to include something tied into the state song of California. Most of us thought this was "California Here I Come;" however, we checked our sources and found out that "I Love You California" is the official state song.
So we decided to put both songs together along with some selections of other "California" themed songs to complete the arrangement of I Love Dreaming of California. See if you can name them all!
---
Día De Los Muertos – Mexican Day of the Dead Celebration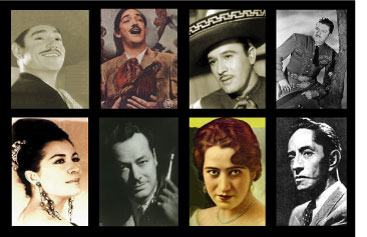 Join our colleague Jeff Nevin, director of Mariachi Champaña Nevin, for a Musical Celebration of the Mexican Day of the Dead.
Sunday, November 2, 7:30pm, Copley Symphony Hall in San Diego
Jeff Nevin writes:
"The Day of the Dead is one of the most beautiful aspects of traditional Mexican culture, but also one that many Americans (like myself) know very little about. I always say that Americans and Mexicans really aren't that different from one another, but then I learn about things like Dia de los Muertos (or eating fried grasshoppers with chile powder) and I question myself… until I dig a little deeper and learn what the celebration is really about: paying tribute to our loved ones who are no longer living. Why don't we celebrate this too? Memorial Day is for honoring our veterans — when do I honor my grandparents?
On this concert we'll feature traditional Mexican Day of the Dead music and dance (witches, spirits, dancing skeletons, the whole bit!), but the majority of the concert is a celebration of the lives of Mexico's best known and most beloved artists, including Pedro Infante, Lola Beltran, Javier Solis and others. We will perform their best known music, literally the "greatest hits of mariachi" — and reflect on the lives of our loved ones. The secret is this: when you celebrate the lives of people no longer living it reminds you that they're not really "gone" at all — they are always living within you. When you hear us perform their music there will be no doubt: these artists will live on forever."
---
Music of the Californias


Saturday, November 22, 2008 7 p.m.
Join Westwind Brass for our tribute to music of the Californias, featuring music from the missions of Baja to the stylings of Herb Alpert and the Tijuana Brass, plus beloved works from the Disney Studios and music from the Gold Rush era. Our show begins at 7 p.m. and will be followed by a reception with the members of Westwind Brass.
This performance will be in the 490-seat Kassebaum Theater at Mater Dei Catholic High School, 1615 Mater Dei Drive, Chula Vista. The facility is named for the late Dr. Estelle Kassebaum, who died in 2006 and was principal of the school when it was known as Marian Catholic High School.
Visit iTunes to download the full recording of Westwind Brass Music of the Californias.
---
Holiday Brass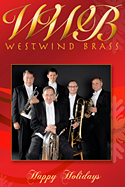 Enjoy holiday music from many countries and every era, including traditional Christmas carols, Hanukah music and selections from a Klezmer's Nutcracker Suite, Händel's Messiah, as well as a few surprises.
Sunday, 11/30/08, 4:00 pm – La Mesa First United Methodist Church
Tuesday, 12/2/08, 7:30 pm – The North Chapel at Liberty Station
Monday, 12/8/08, 7:30 pm – The Neurosciences Institute
Individual concert tickets are $25 general admission,
$15 members/students/seniors/military.
Call the Box Office at (619) 665-9125.
Locations:
La Mesa First United Methodist Church
4690 Palm Avenue
La Mesa, California, 91941
Directions
The Neurosciences Institute
10640 John Jay Hopkins Drive
San Diego, CA 92121
Directions
The North Chapel at Liberty Station
2881 Roosevelt Road
San Diego, CA 92106
Directions
---
The City of San Diego Commission for Arts and Culture provides major support to Westwind Brass.
Westwind Brass P. O. Box 601502 San Diego, CA 92160-1502; phone 619-665-9125;
Email:
---
We are pleased to recognize our community partners