Westwind Brass Music!
Enjoy Westwind Brass At Your Leisure
Listen to brass at home, at work, in your car or during your moring workout.
Browse the albums, sample the tracks, buy a real CD for $12.99, download the MP3 version for $9.99, or pick your favorite individual MP3s and support WWB today!
---


Available on iTunes & cdbaby for digital downloads.
CD's available through PayPal $9.99 + shipping and handling or contact us directly.
The Old Euro Standard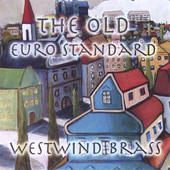 And the Halls Resound* – Brent Dutton
Filiae Jerusalem* – Giovanni Pierluigi da Palestrina -arr. Brent Dutton

Missa L' Homme Arme – Giovanni Pierluigi da Palestrina -arr. Brent Dutton

Kyrie*
Gloria*
Credo*
Sanctus*
Benedictus*
Agnus Dei I*
Agnus Dei II*
Concerto in Ab -Antonio Vivaldi -arr. John Wilds
Allegro*
Andante*
Allegro*
Music from the Masque Alfred
Thomas Ame – arr. Brent Dutton
March*
Sinfonia From Alfred
Thomas Ame – arr. Brent Dutton
Allegro*
Andante*
Largo*
Allegro*
Rule Britannia*
From A Finnish Wedding -arr. Brent Dutton
Vanha Haamarssi (Old Wedding March)
Haavsalssi (Wedding Waltz)*
Haihintulopeli (Let The Party Begin)*
*published by Brassquake Press
©2004 Eroica Classical Recordings JDT3198
Download from iTunes:

Westwind Brass and Friends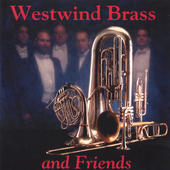 Centennial Fanfare
Concerto Grosso in C Major , Alexanders Feast
Pour Les Quivres
Pour Les Quivres (cont.)
Pour Les Quivres (cont.)
Russian Sailor's Dance
Alexander Ragtime Band
Epistrophy
Siren of Urak
Ceremonial Piece for Brass
Voluntary On Hyfrydol
A Mighty Fortress
©2000 WWCD 1002
Download from iTunes:

Americana
An American Revolutionary War Medley arr. Jari Villanueva
Civil War Brass Journal arr. Jari Villanueva
Simple Gifts A. Copland
Maple Leaf Rag Scott Joplin
Solace Scott Joplin
Liberty Bell J. P. Sousa
The Original Dixieland One-Step (RA) arr. Jack Gale
Thats A – Plenty Lou Pollack
The Quintessential Gershwin G. Gershwin arr. Stephen Bulla
In the Mood – Moonlight Serenade – American Patrol Joe Garland – Glen Miller – F.W. Meacham
In a Sentimental Mood – Take The A-Train – Satin Doll Duke Ellington – Billy Strayhorn – Duke Ellington
Suite of the Americas Brent Dutton
©2000 WWCD 1002
Download from iTunes:

Westwind Brass Christmas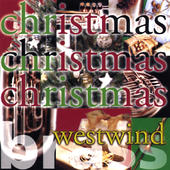 Joy to the World
Angel Medley
English Medley
O Holy Night
Classical Medley
Coventry Carol
O Come, O Come Emmanuel
Jesu Loves a Manger Brent Dutton
Sussex Mummer's Carol Percy Aldridge Grainger
Three Anthems for Brass Quintet Johann Topff arr. David Baldwin
Silent Night J. Gruber arr. Karl Soukup
God Rest Yea Merry Gentlemen Traditional arr. Karl Soukup
©1998 RKAL Recordings 1002
Download from iTunes:

Music of the Californias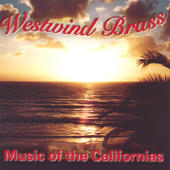 La Virgen De La Macarena arr. Geoffrey Bergler, Touch of Brass
I Love Dreaming of California arr. Barry Toombs, Brassquake Press
California Mission Music Padre Narciso Duran (1776-1846)
arr. Brent Dutton, Brassquake Press
El Cantico Del Alba
Kyrie
Vexilla Regis
Credo – From the Cathedrals of Mexico arr. Brent Dutton, Brassquake Press
Elegit Eum Dominus Gaspar Fernandes (ca. 1586-1629)
Alleluia Franciaco Lopez Capillas (ca. 1605-1673)
Venid Venid Zagales Vereis a un Dios Niño Alonso Xuares (d. 1696)
San Diego March T. H. Rollinson – 1888 arr. Barry Toombs, Brassquake Press
Railroad Gallop Joseph Gungl (1810-1889)
arr. Brent Dutton, Brassquake Press
Salute to the Golden Gate Aug. Haase – 1895
arr. Barry Toombs, Brassquake Press
Independent City Guards August Wetterman – 1858
arr. Barry Toombs, Brassquake Press
Las Bodas de Luiz Alonzo arr. Jeff Nevin
A Tribute to Herb Alpert arr. Richard Gordon
Disney Movie Fantasia
©2002 Eroica Classical Recordings JDT3109
Download from iTunes:

Jazztet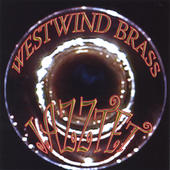 A Night in Tunisia – Dizzy Gillespie – arr. Bill Yeager
Stolen Moments – Oliver Nelson – arr. Barry Toombs
Four Brothers – Jimmy Guiffre – arr. Bill Yeager
Lush Life – Billy Strayhorn – arr. Brad Steinwehe
Spain – Chick Corea – arr. Barry Toombs
Round Midnight – Thelonius Monk – arr. Bill Yeager
Sensation Rag – The Original Dixieland Jazz Band
This Masquerade – Leon Russell – arr. Bill Yeager
In a Mist – Bix Biederbecke – arr. Karl Soukup
Four Pieces for Brass Quintet – Paquito D' Rivera
Wapango
Danzon
El Cura
ofia
©2005 LMP Records LMP3905
Download from iTunes:

Dutton's World Resounds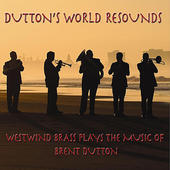 This Land Is Your Land
O Danny Boy
Hat Dance
El Condor Pasa
Desafinado
Seikilos Song
Old Wedding Waltz
The Yankee Variant Doodles
Sakura Mediterranean Reveries

I. Tunis-Morning
II. Natanya-Noon
III. Athens-Evening

Bitter Melons
Ingoma Yakwethu Armenian Scenes

I. Morning Song
II. Drinking Song
III. Song of Grief
IV. Wedding Procession
Download from iTunes:


Westwind Brass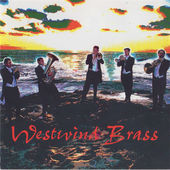 Three Rennaisance Madrigals: I. Jubilate Deo
Three Rennaisance Madrigals: II. Cruda Amarilla
Three Rennaisance Madrigals: III. Revecy Venir du Printans
Brass Quintet No. 3 in D Major, Op. 7: I. Allegro moderato
Brass Quintet No. 3 in D Major, Op. 7: II. Intermezzo
Brass Quintet No. 3 in D Major, Op. 7: III. Andante
Brass Quintet No. 3 in D Major, Op. 7: IV. Vivo
Blue Rondo a La Turk
Psalm XIX: The Heavens Declare
Concerto Grosso, Op. 3: No. 11 Fugue
Fantastic Polka
Four Movements for Brass Quintet: I. Andante
Four Movements for Brass Quintet: II. Allegro
Four Movements for Brass Quintet: III. Larghetto
Four Movements for Brass Quintet
©2000 WWCD 1002
Download from iTunes: