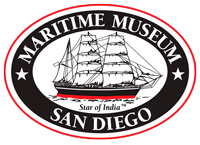 Westwind Brass, the ensemble in residence at the School of Music and Dance, San Diego State University is proud to announce their upcoming concert series at The San Diego Maritime Museum!
 Brass at Sea Concert Series
New for the 2017 Season! Westwind Brass and the Maritime Museum of San Diego join forces to present the Brass at Sea Concert Series. Join us for four all new musical programs aboard the Steam Ferry Berkeley at the Maritime Museum of San Diego. It's the perfect outing for relaxing evening entertainment on the water.
Concert Series:
9/11/2016   Bon Voyage: Songs from the Sea. We kick off the series with a nautical theme in a program celebrating the many joys of life on the water. We will take you from sailboat to ocean liner and everything in between as we explore the sea as friend, foe, livelihood, and diversion. Musical selections include works by G.F. Handel, Reinhold Gliere, Benjamin Britten, Richard Rogers, Ralph Vaughan Williams and more. (Concert at 4 pm)
12/12/2016   Season of Lights. Join us for this holiday concert designed to brighten the short days of winter with a musical celebration of holidays. You will hear a few old favorites, new classics, and perhaps a few surprises along the way. This program will also include a festive sing along with guest artists. (Concert at 7 pm)
2/12/2017    100 Years of Original Brass Works. If you think brass compositions ended with Sousa, you are wrong, so wrong. Come hear contemporary interpretations of the sounds of brass ensemble, from the playful to the somber as we highlight works by Malcolm Arnold, Toni Dilorenzo, Eugene Bozza, Anthony Plog, Witold Lutoslawski, Peter Schickele, and Bruce Broughton. (Concert at 4 pm)
5/7/2017       American Jazz with Pacific Blast. The grand finale to the season celebrates a West Coast twist on that most iconic of American art forms: jazz. We will shake it up and cool it down with compositions from Jelly Roll Morton, Louie Armstrong, to Miles Davis and a whole lot in between. (Concert at 4 pm)
All concerts will take place aboard the Steam Ferry Berkeley. The Berkeley is an 1898 steam ferryboat that operated for 60 years on San Francisco Bay, arriving in San Diego in 1973. A California State Historic Landmark, and a National Historic Landmark, the Berkeley carried thousands of survivors to safety during the 1906 San Francisco earthquake. The finest example of a 19th century ferryboat afloat, the Berkeley had a revolutionary hull restoration during the spring of 2003 that is expected to last for 50 years.
The Maritime Museum of San Diego enjoys a worldwide reputation for excellence in restoring, maintaining and operating historic vessels. The museum has one of the world's finest collections of historic ships, including the world's oldest active ship Star of India. Our collection of ships and exhibits are available for daily public tours. Learn more at our website: https://sdmaritime.org/
Westwind Brass exists to broaden and enrich the musical legacy of local, national and international audiences through performance and educational services featuring brass instruments and music. The group fields an ensemble of brass musicians who perform in various configurations of musicians featuring the unique timbre of brass instruments and performing the brass repertoire at a high artistic level. Westwind Brass is ensemble in residence at San Diego State University School of Music and Dance.

Tickets:
$25 General Admission
$20 Maritime Museum members
$10 Seniors, Students, & Military (w/ Valid ID)
Full series discount- All Four Concerts for $80
To order by phone call: 619-665-9125